Mahakaleshwar Temple is present in the ancient city of Ujjain the state of Madya Pradesh , India. The temple is more than 1000 year old and gave positive vibes all around the place . Moreover , The temple is near on the other side of the River Shipra. Diety of The Temple is Shiva. Although, has Two Jyotirlingas, the second one, Omkareshwar Jyotirlingas is present about 140 km South of Mahakaleshwar Jyotirlinga.
Along with this, The presiding deity, Shiva in the lingam form is believed to be Swayambhu, deriving currents of power (Shakti) from within itself as against the other images and lingams that are ritually established and invested with Mantra- Shakti . Along with this , Their are so many Famous Temple Near Mahakaleshwar Temple !
By history, The idol of Mahakaleshwar is known to be dakshinamukhi, which means that is facing the South Direction. Images of Ganesh, Parvati and Karttikeya are present in the West, North and East of the sanctum sanctorum.
Ujjain is an old city which is near on the banks of the river Kshipra is a important place as a Hindu pilgrimage site in central India. Ujjain is home to some of the most famous temples and religious sites.
Moreover , Chandisvara temple might have been a unique example of the then Art and Architecture. The temple was enclose by high ramparts attach with the Entry-Gates.
Apart from this , Their are some point to be Notice. These are –
1 – Devotees are not allow to bring their bag
2 – Cameras are not Allow Here.
3 – A ticket system, with different categories, has been worked out for The Entry. An additional Rs 1,000 will be charged for offering water to Lord Mahakal. It is Start from December 2022 .
Furthermore , Lockers and Cloak Rooms are there for devotees where they can keep their belongings.
About Jyotirlingas
As per the History of Shiva Purana , Brahma and Vishnu once had an argument over who was surprise in the creation . But , Shiva tested them by piering the Three worlds as an endless pillar of light , The Jyotirlinga. Their is a strong story Behind it . It starts with when Vishnu and Brahma decide to travel along the piller downwards and upwards respectively , to find the end of Light. One Jyotirlingas is in Ujjain , Mahakaleshwar Temple. Their are 12 Mahakal Shivling.
More About Jyotirlingas !
Brahma lied that he had found the End , While Vishnu conceded his defeat. Shiva appears as a second pillar of light and curse Brahma that he have no place in ceremonies while Vishnu will be Worship till the end of Eternity. Along with this , jyotirlingas shrines , Thus are the places where Shiva Appeared as a Fiery column of Light . Each of the Twelve Jyotirlinga sites take the name of the Presiding Deity – Each considered Different manifestation of Shiva. Their are so many places to visit in Mahakaleshwar , Ujjain.
Their power is Endless and thousand of people visited all over from India to see these Jyotirlinga. It symbolises the Infinite nature of Shiva. Undoubtedly , On the day of Maha Shivaratri, a huge fair is held near the Temple and Worship goes on through the Night. Jyotirlinga means 'column or pillar of light'. Moreover , The 'stambha' symbol represents that their is No Beginning or End. Jai Mahakal !
The Twelve Jyotirlinga are –
1 – Somnath in Gujarat , Mahakal Shivling
2- Mallikarjuna At Srisailam in Andra Pradesh
3 – Mahakaleshwar at Ujjain in Madhya Pradesh , Mahakal Shivling !
4 – Omkareshwar in Madhya Pradesh
5 – Kedarnath in Himalayas in Uttrakhand State , Mahakal Shivling !
6 – Bhimashankar in Maharashtra
7 – Viswanath At Varanasi in Uttar Pradesh , Mahakal Shivling !
8 – Triambakeshwar In Maharashtra
9 – Baidyanath Temple at Deoghar in Jharkhand , Mahakal Shivling !
10 – Deoghar in Jharkhand
11 – Nageswar at Dwarka in Gujarat , Mahakal Shivling !
12 – Rameshwar At Rameswaram in Tamil Nadu
13 – Grishneshwar at Aurangabad in Maharashtra , Mahakal Shivling !
[ Two Jyotirlingas are in Maharashtra. ]
Can we Touch Mahakaleshwar's Temple Shivling ?
Yes, You can touch Mahakal Shivling . Any time you go, you will be allow to go in sanctum sanctorum (Garbha Grih) except when Aarti is going on, and you can do Abhishek and touch the Holy Mahakaleshwar Jyotirlinga. Men have to wear a Traditional Dhoti and Women must wear a sari. People start lining up at the temple from around 1 a.m. to gain entry, so you'll need to arrive early and wait. Offcourse, No rubbing of Shivalingam to be done by anyone except during traditional puja and Archana performed on Behalf of the Temple of Mahakal Shivling. Their are so many places to visit in Mahakaleshwar.
History Behind Mahakaleshwar Temple | Ujjain
Alternatively , Indian History can gave you Huge Amount of Knowledge and This Glory Can gave you Relief To your Soul. Moreover , According to the Puranas, The City of Ujjain was called Avantika and was famous for its Beauty and was famous for its beauty and its status as a Devotional Epicenter.
Along with this, Students went to study holy scriptures. Like all old Structures and the Stories that Surround them , The Legend Behind Mahakaleshwar Jyotirlinga has Many Versions. One History Goes like this. Jai Mahakal !
At that time , It is Believe that King Chandrasena of Ujjain is a Great Devotee of Lord Shiva and Worshipped him. One day , While he was praying , A Young Boy , Named Shrikhar was walking on the ground of the palace and Heard the King chant the Shiva's name and rushed to the temple to start praying with him.
Jai Mahakal !
However, the guards removed him by force and sent him to the outskirts of the city near the river Kshipra. Rivals of Ujjain, Primarily King Ripudamana and King Singhaditya of the neighboring kingdoms decided to attack the Kingdom and take over its treasures around this time.
Hearing this, Shrikhar started to pray and the News spread to a Priest named Vridhi. He is shock to hear this an upon the urgent pleas of his Sons, start to pray to Shiva at the river Kshipra. The Kings chose to attack and were successful because of the help of one of the Powerful Demon Dushan, who was blessed by Brahma to be invisible, So now ,They Plunder the city and attacks all the Devotees of Shiva.
Now , Hearing the pleas of His Helpless Devotees , Shiva appeared in his Mahakala form and destroyed the enemies of King Chandrasena. Upon the request of his devotees Shrikhar and Vridhi, Shiva agreed to reside in the city and become the chief deity of the Kingdom and take care of it against its enemies and to protect all His devotees.
Mahakaleshwar Jyotirlinga !
From That day on, Shiva resided in His light form as Mahakala in a Lingam that is form on its own from the powers of Shiva and his consort, Parvati. Along with this , Shiva also blessed his devotees and declared that people who worshipped Him in this form would be free from the fear of death and diseases. Also, they will be grant worldly treasures and be under the protection of the Shiva himself.
The Mahakaleshwar Temple As Shakti Peeth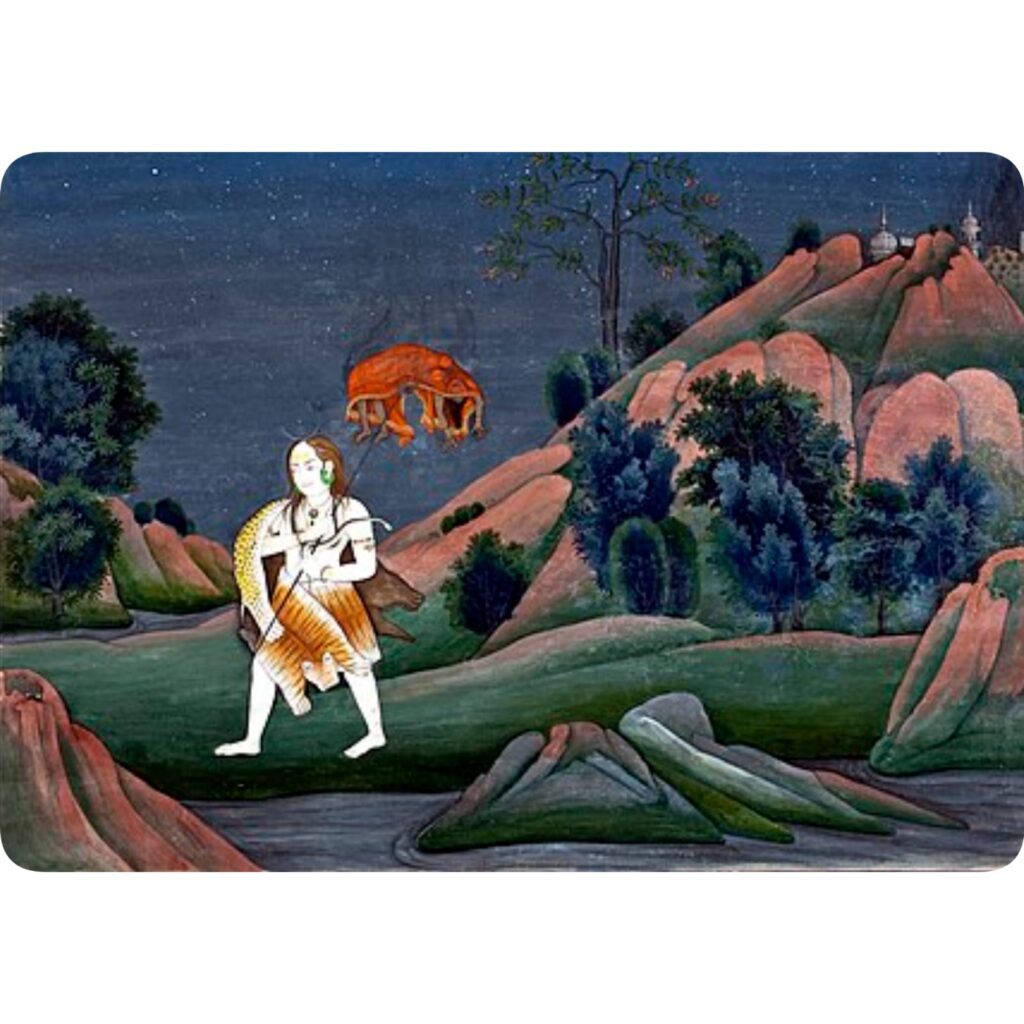 Hence , In the above picture, You can see that Lord Shiva is carrying the Corpse of Sati Devi. Alternatively , Some people are Not aware about the fact that The Shrine is reverse as one of the 18 Maha Shakti Peetham . It is believe that It is Enshrine with the Presence of Shakti due to the Falling of Body parts of the Corpse of Sati Devi, when Shiva carried it.
Each of the 51 Shakti Peethas has shrines for Shakti and Kalabhairava. The Upper Lip of Sati Devi is fall here and the Shakti as Mahakali. Jai Mahakal !
However, Sati also Known as Dakshayani is the Daughter of Daksha. She Is the Hindu Goddess of Marital Felicity and Longevity. In addition to this , She worshipped as an Aspect of the Mother Goddess Shakti. Sati was the First wife of Shiva, the Other being Parvati, who was Sati's Reincarnation after her Death.
Famous Temple Near Mahakaleshwar Temple – Pilgrimage Visits
1 – Kal Bhairav Temple
This Temple is Dedicate to Kal Bhairav who was the Guardian Diety Of City . The Temple is present on the Shipra river in Madya Pradesh. However , Thousand of People visits daily and takes Blessings here. The temple show Maratha Influence and Mahashivratri is Celebrates here with more Grace and Beautifully. As a result of this , A large number of Crowd will be saw from all the India . It is one of the Famous Temple near Mahakaleshwar Temple ! Hence, Must Visit !
The History of Bhairav Temple can Surprise you ! .It is believe that After the Maratha Defeats in the Battle of Panipat , Maratha General names Mahadaji Shinde offers his Pagri to the Diety , In the case of victory in his Campaign to Restore the Maratha Rule in North India in Future. Due to this Reason , After Sucessfully resurrecting Maratha power , He carried out restoration of the Temple. It is one of the Mahakaleshwar Tourist Place !
2 – Mangalnath Temple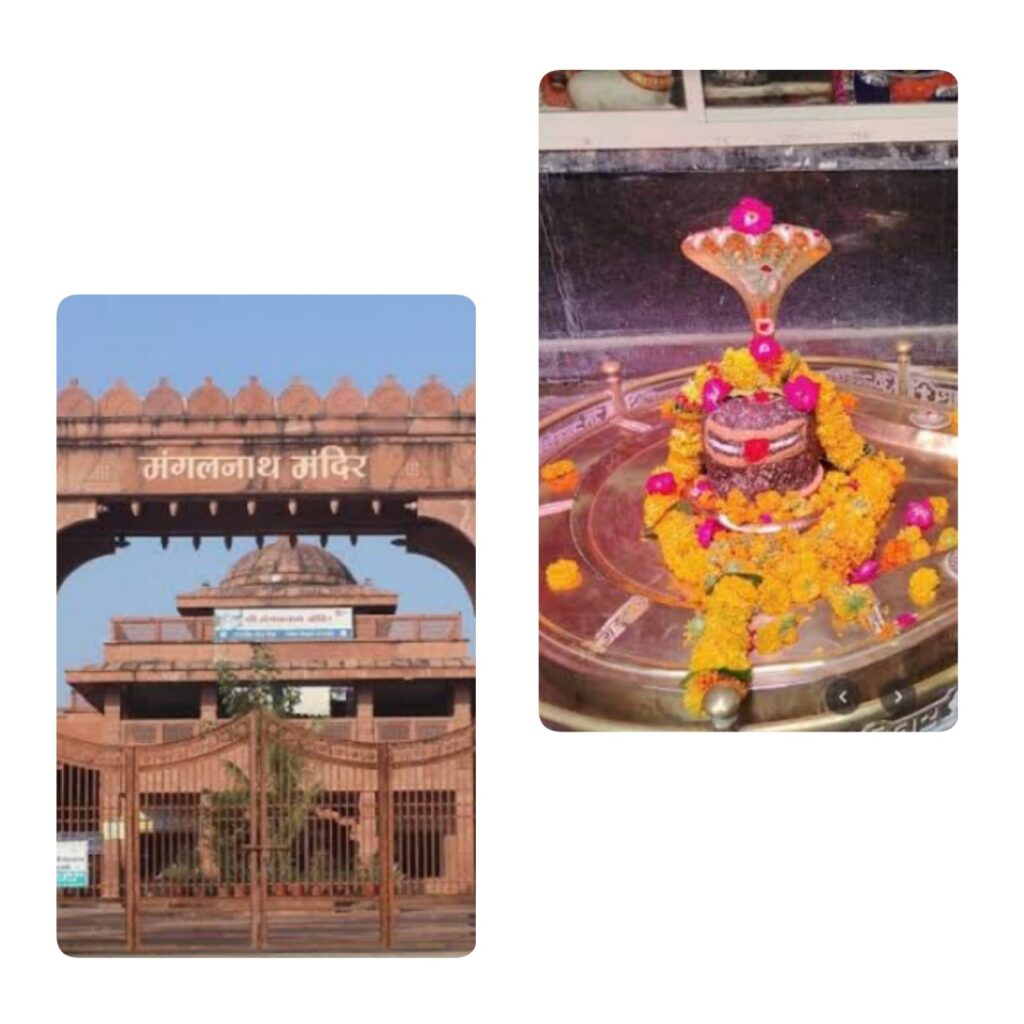 This Temple is Dedicate to Mahadeva and is Located on the Bank of Shipra River. Not only this , But also This Temple is Considered as One of the Active Temple in Ujjain .It should be Noted that The Temple is regarded as the Birthplace of Mars in Accordance of Matsya Purana . It is also Famous for the clear view of the planet and also suitable for doing Astronomical Studies. It is one of the Famous Places near Mahakaleshwar Temple.
The Temple is present at the Center of Earth and the Famous karka line passes away from here. On the Other hand, It is Belief that Mahakal or Lord Shiva is the King of Ujjain and Another Ruler [ Cm or Pm visited ] and stay at Night , Something bad will Happen to them , Goes to Them. Hence , No King can Stay !
3 – Ram Ghat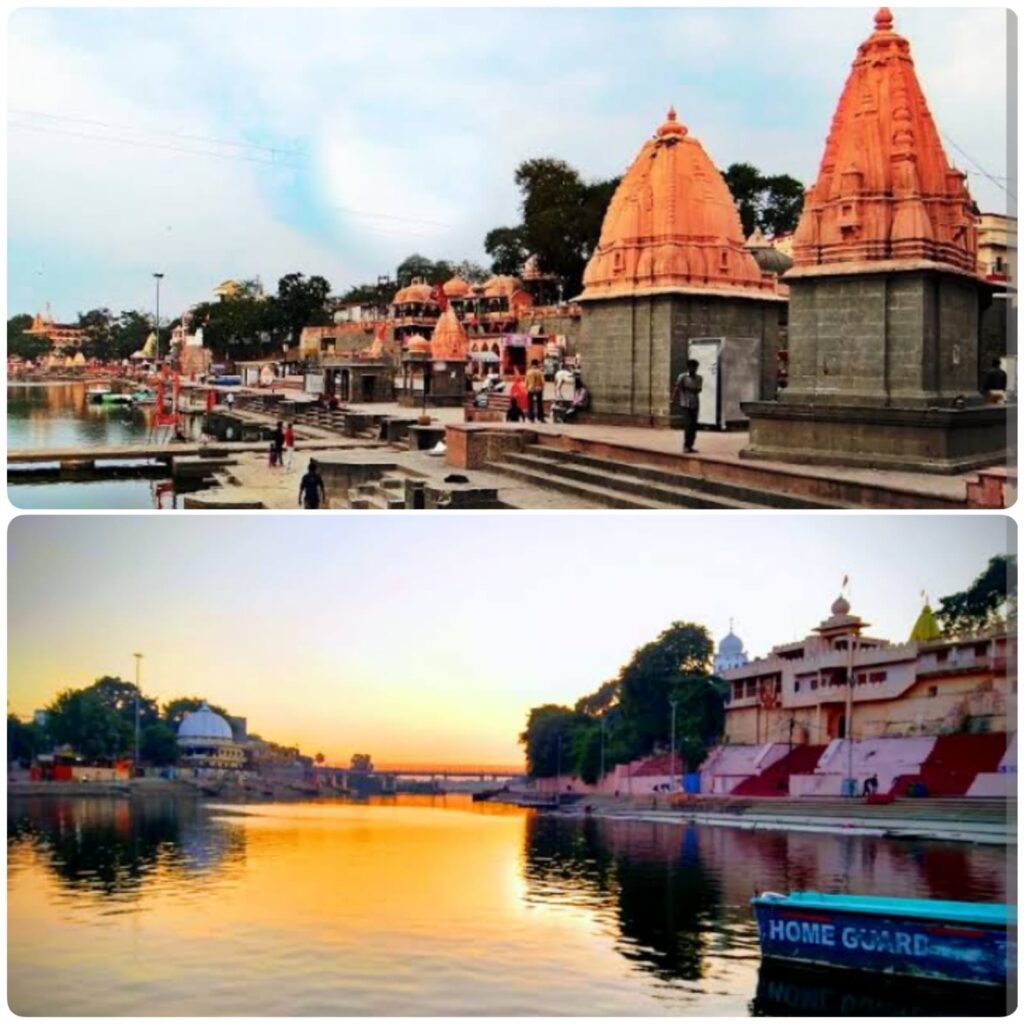 Ram Ghat is Popular as the Venue of the Famous Kumbh Mela in Ujjain. If you visited Mahakaleshwar Temple in Ujjain , Then you Should visit to Ram Ghat as it is just 1 km away . Moreover , The Ghat is to be the Oldest Bathing Ghat in Ujjain , Madya Pradesh . The Aarti here can gave peace to your soul and Also History is immensely Beautiful and the Sunset in summers is also Glorified . Now a Days , It had become a Major attraction for Tourists .
It is Believe that Lord Vishnu Dribbed some Drops of Amrit at Ram Ghat . Hence, It is one of the Famous places to visit near Mahakaleshwar Temple !
4 – Shri Dwarkadhish Gopal Mandir
Dwarkadhish Mandir also called as Gopal Mandir is dedicate to Lord Krishna. The Temple is present in Ujjain City , Madya Pradesh . Mandir was Built by Bayaji bai Shinde , Wife of Maratha King Daulatrao Scindia in the Maratha Style .
The Main Temple has a Two-Feet Tall Statue of Lord Krishna made up of Silver Coated Marbles. People Who Visited Ujjain Also Visited Dwarkadhish Mandir. Moreover , It is Believed that The doors of Gopal Mandir are said to have been stolen by Mahmud of Ghazni. These were later restored by Mahadji Scindia.
Indian Cricketer – Virat Kohli Visit to Mahakaleshwar Temple with His Wife .
Recently , Virat Kohli along with his Wife , Anushkha Sharma paid visit to The Iconic Temple in Ujjain and take Blessings. Along with this , Vedio goes viral on Social Media where couple could be seen sitting on the Ground with other Pilgrims in Mahakaleshwar Temple. The marked their visit on Saturday's Morning , A day after the 3rd Test encounter between India and Australia in Indore came to an End. Jai Mahakal !
While Anushka wore a Light Pink Saree with No Makeup Look , Virat could be seen wearing White Dhoti in Mahakaleshwar Temple, Ujjain. Moreover , The Priest Leans in and Talk to him as well . Earlier, Anushka and Virat had paid Visit to Temples in Uttarakhand and Vrindavan Together. They also joines by their Daughter , Vamika . " We came here to offer Prayers and had a Good 'Darshan' at Mahakaleshwar Temple , " Anushka Sharma told ANI .
PM Modi Steps Towards Mahakaleshwar Temple In Ujjain .
Prime Minister Narendra Modi Had also Visited to Mahakaleshwar Temple in Ujjain , Madya Pradesh. He was inaugurate the ' Mahakal Lok ' corridor as Part of the Project to Mahakaleshwar Jyotirling Mandir. Along with This , Modi Ji also offered Prayers and Pray At Bharat Mata Mandir before Addressing a Gathering of more than 30,000 People in Mahakaleshwar Temple. Jai Mahakal !
Pm Modi Stay Two Hours in Ujjain and Shivraj Singh Chauhan Accompanied him through out The Journey of Mahakaleshwar Temple. The construction of Mahakal Corridor costs more than 200 Crore and will Commence in July 2023. Along with this, He can be see doing Puja in Ujjain that taking Blessings. "When I had come to the Ujjain Kumbh, that feeling has become a reality. I congratulate those that made this come true," he said.
To know more about Mahakaleshwar Jyotirlinga – click here
To Read More Blogs click here