Rishikesh is situated Near Dehradun District of India. Along with this , You can find Various Temple and Fun Activities To do here. Moreover, The Glimpses of This place can truly add a lil bit Spice in your Journey. Despite this , If you are not be able to find Hotels in Night here, Then , You can Rest at Ashrams. Hence , After Visiting Here , You can Also go to Nearby places such as – Triveni Ghat , Ram Jhula , Parmarth Niketan Ashram and Many More. At this Places , You can see Large Crowd in Festival Season because Devotees are Fully Energetic. Their are so many places to visit in Rishikesh.
It is Best Known as ' Yoga And Meditation Capital of World'. Along with this , This place also Hosted a Function Named ' International Yoga of Festival ' since 1999. Indeedly, it is considered as the ' 2nd Heaven of India ' after Kashmir. You can also see various Crowd all over this place. Moreover , You can a Plan a Trip of 2 Days to explore this place.
The Best Time that you can visit here are October to February. This is Because it is Slight – Chill and You will get Extra Energy due to Best Weather . Hence , Let's Start with Exploring Top 6 Places Here –
Read My Other Blogs – Click Here
Top 5 Places To Visit In Rishikesh , India
1 – Lakshman Jhula
Lakshman Jhula is just 5 km Away. Along with This, You can see now a Days it has become a Major Attraction For People. If you are Coming here Through Bike then , You can cross Through this Bridge and Directly you will enter in villages of Tapovan To Jonk. Moreover , It is a Pedestrian Bridge which is Located at the Outskirts of The City and one of the best places to visit in Rishikesh.
History behind Laxman Jhula is that it is Believe that Lord Lakshman Crossed the River using these Two Ropes in late Centuries. It is one of the Best place to visit in Rishikesh.
2 – Neer Garh Waterfall
The Eternal Beauty of this place can truly give peace to your soul. Moreover , This waterfall is a Narrow Stream of clear Water through a Dense Green Forest. The Best Time that I considers You is Mid-Monsoon. For Trekking Lover , It is Best Because after Reaching the waterfall It requires 20 Minute Hike that starts 2km North from the Lakshman Jhula. It is one of the Best place to visit in Rishikesh.
It is Famous Because you can Do many Activities such as – Hiking , Picnic Spots and Trekking here. Meanwhile , The natural cool water in summer can Gave peace to your Soul.
3 – Jumpin Height- Things to do in Rishikesh
Yes ! , You See this Right ! . Bungy Jumping started here as well. It is one of the Things to do in Rishikesh. You can make your Trip more Enjoyable by doing This here. Moreover ,Other things to do in Rishikesh is that you can take an offer in Cost so that you can do Both Bungy Jumping and Giant Swing or Flying Fox. It is one of the Things to do in Rishikesh,
But they had a Age Limits and you should follow Rules and Restriction after these Activities. Make sure you are Fit and Fine After Performing. Moreover, It will add Thrill in your Trip. It is Costly but you can have a Life time experience After Spending money .
4 – Triveni Ghat
Triveni Ghat is the Most Famous Ghat in here. Well ! It would be a Life-Time Experience if you stay in Aarti Ceremony that held Every Evening. Along with this , The Glory of This Ghat is so Magestic that people follows Last Rites and Rituals for their Loved ones Here. It is one of the places to visit in Rishikesh.
Moreover , Aarti ceremony is Held in Pure chants of Vedic Hymns. The Main Attraction of this Ghat is The sight of oil leaves, filled with diya and petals which is Release by Devotees here.
5 – River Rafting In Rishikesh
What else you want rather than A Straight Rishikesh River side Rafting and Camping , DJ Night, Meals and more adventurous activities. This become the Main Attraction in heart of Visitors. Rafting is considered as ' Adventure Capital of Rishikesh'.
However , The thrilling in trip can increase if you do in River Rafting in Rishikesh along with Camping, This can add Pleasant Environment in your Trip. Moreover, Make sure you follow Rules and Regulation in Doing River Rafting in Rishikesh. Along with this , Make sure you have a Extra pair of Socks , clothes and Undergarments because their is a High chance of getting wet during Session.
6 – Kunjapuri Devi Temple
Their is a Great History behind this Temple of present here. It is Said that Here at Kunjapuri Devi Temple , The chest of Burned Sati was fallen. In winters, you can see Beautiful view of Snow Capped Mountains surrounded with Swarga Rohini , Gangotri and Banderpunch.
Moreover, You can see a Large Amount of Crowd during festival such as – Navratri and Dussehra. Indeedly , History Behind this Temple is Truly Knowledgable. This Temple is situated 80 steps above so you have to Climb and Take Blessings. It is one of the Best places to visit in Rishikesh.
Hotels In Rishikesh – ' Best And Affordable '
1 – Moustache Rishikesh Luxuria
Address is – Opp. Deccon Valley Apartments NH58, Badrinath Highway, Tapovan, Uttarakhand. Tapovan, Rishikesh, Uttarakhand, India, 249137.
This Hotels in Rishikesh Provides Best Amenities at best Price such as – King Side bed , Sanitized Washroom , Best food and Ambience etc. You can Make your stay even More Better by choosing this Hotels in your Travel. It is one of the Best Hotels in Rishikesh.
2 – The Salvus Cottage-Narayana Sanctuary
Address is – The Narayana Sanctuary, Badrinath road, Tapovan near Laxman Jhula.
This Hotel in Rishikesh Provides amenities such as – Free WI-FI , Cleaned Bathroom and Friendly Staff. Moreover , It is just 5 km away from Triveni Ghat , 7.6 km from Lakshman Jhula , 9.5 Km from Ram Jhula and from Jolly Grant Airport it is just 21.4 Km away. It is Best and Affordable Hotel for Everyone.
3 – The Neeraj Palace Near Ganga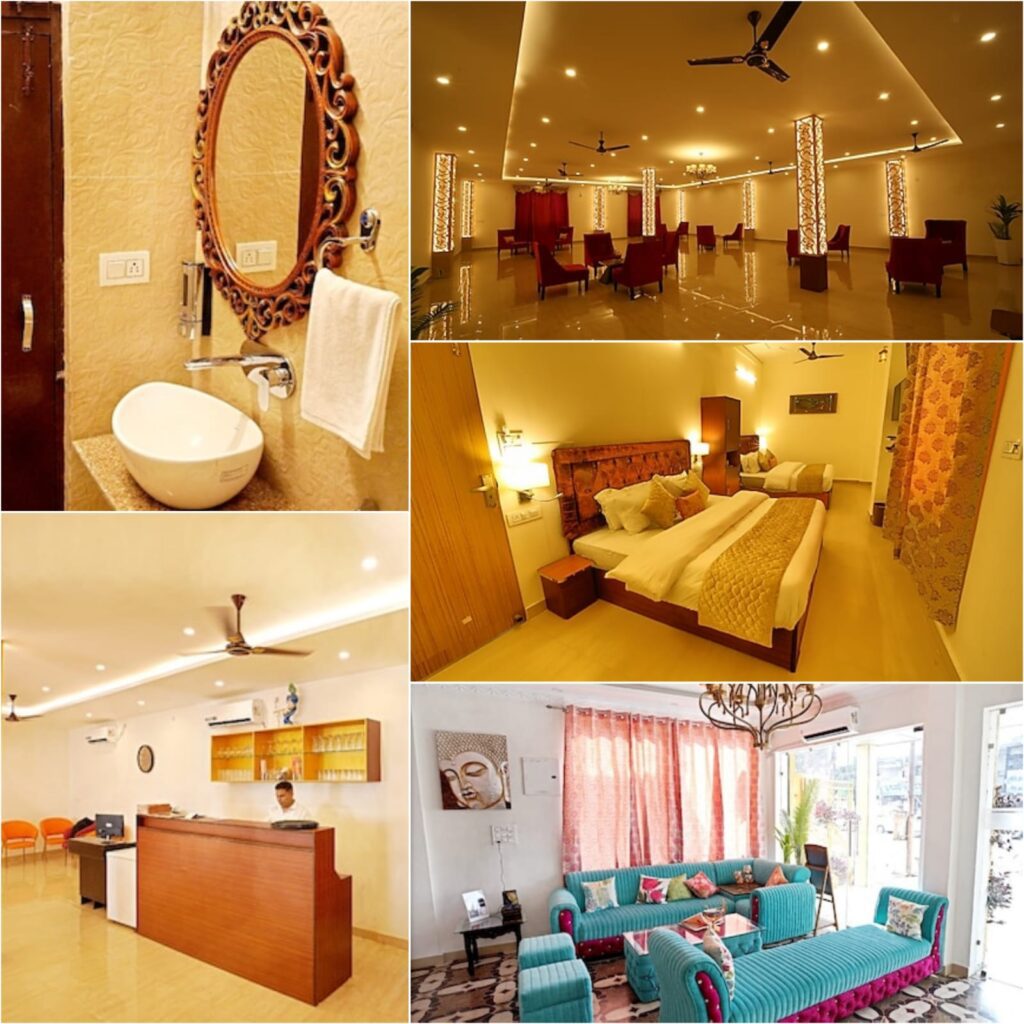 Address is – 248 Ganga Vihar Colony, Haridwar Road, Distt Dehradun Uttarakhand- 249201 .
This Hotels in Rishikesh Provides amenities such as – Cooperative Staff , Best food , Cleanliness is the First Priority for Them. Along with this , Triveni Ghat is 2.1 km Away , Ram Jhula is 12.8 km Away and Bharat Mata Temple is also 17.4 km away from here. Hence, Make your Travel best by Choosing this Hotel. It is Cheap and Affordable.
' I Am Here To make Your Travel More Easy and Comfortable '
Check out My Other Blogs – Click Here